In the bustling landscape of web hosting providers, A2 Hosting stands as a reliable and acclaimed option for users seeking top-notch hosting solutions. This article will delve into the world of A2 reseller hosting in Canada, exploring its features, benefits, and alternatives, giving you a comprehensive understanding of what this service entails.
Who is A2 Hosting?
Founded in 2003 by Bryan Muthig, A2 Hosting has steadily risen through the ranks to become a renowned web hosting company with a strong presence worldwide.
Headquartered in Ann Arbor, Michigan, A2 Hosting boasts data centers spanning the United States, Europe, and Asia.
Their hosting repertoire includes shared hosting, VPS hosting, dedicated hosting, and WordPress hosting, all synonymous with speed, reliability, and excellent customer support.
A2 Hosting's achievements have not gone unnoticed, as industry giants like PCMag, Forbes, and WebHostingTalk have lauded their contributions.
Pros and Cons of A2 Hosting in Canada
Pros:
Fast and Reliable Hosting: A2 Hosting's reputation for speed and reliability is well-deserved. Their infrastructure ensures that your websites load quickly and maintain high availability.
Excellent Customer Support: A2 Hosting's Guru Crew Support is available around the clock to assist you with any queries or issues, fostering a smooth hosting experience.
Affordable Prices: A2 Hosting strikes a balance between quality and affordability, making it accessible to a wide range of users.
Wide Range of Features: With a plethora of hosting plans and features, A2 Hosting offers customizable solutions to meet diverse needs.
30-Day Money-Back Guarantee: A2 Hosting's confidence in its services is reflected in their 30-day money-back guarantee, allowing you to explore their offerings risk-free.
Cons:
Some Plans Can Be Pricey: While A2 Hosting is known for its affordability, some of their plans may be relatively more expensive than those of their competitors. For instance, their pricey shared hosing plan comes at $14.99 per month!
Not as Feature-Rich: Although A2 Hosting offers an impressive array of features, some other providers may offer even more advanced features in certain areas.
Limited Server Locations: A2 Hosting's server location options are fewer compared to some other hosting providers, potentially affecting your ability to target specific geographic regions effectively.
Best A2 Reseller Hosting Plans in Canada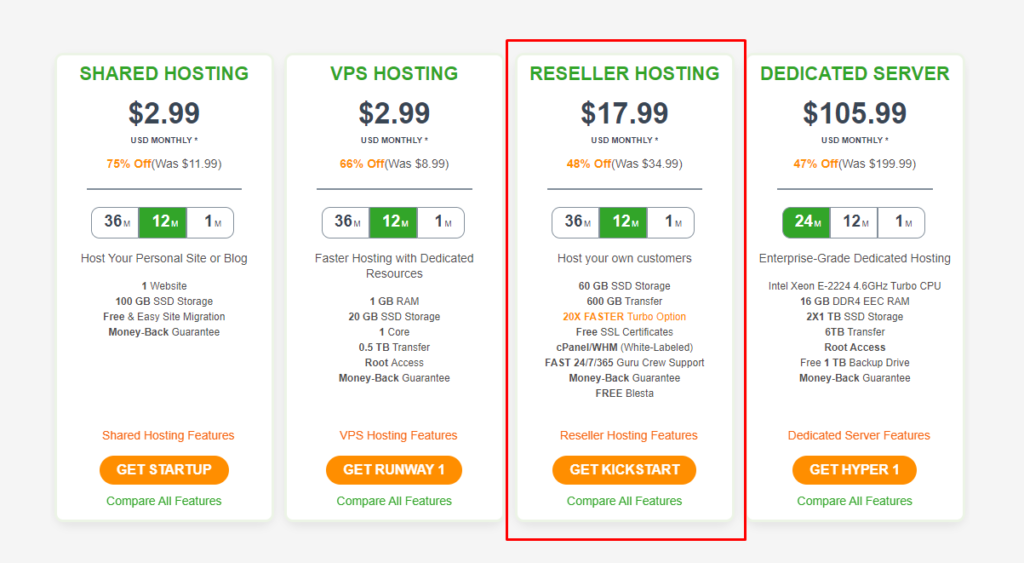 A2 Hosting is an enticing choice for those looking to venture into the realm of reseller hosting in Canada.
Offering plans that start from $17.99 per month, A2 Hosting's reseller hosting packages in Canada provide a range of features that cater to your needs. Some of the standout features of these plans include:
20X Faster Turbo Servers: Leveraging Turbo Servers, A2 Hosting ensures blazing-fast loading times for websites hosted on their platform.
99.9% Uptime Commitment: With a strong commitment to uptime, A2 Hosting assures that your websites remain accessible to visitors almost all the time.
24/7 Phone, Live Chat & Email Support: A2 Hosting's Guru Crew Support is ready to assist you around the clock via multiple channels.
Easy cPanel Client Control Panel: The user-friendly cPanel interface makes managing your hosting and websites hassle-free.
Free Billing Software: A2 Hosting sweetens the deal with free billing software, streamlining your invoicing and payment processes.
WHM Control Panel: The WHM control panel empowers you with the tools needed to manage multiple cPanel accounts seamlessly.
Free Domain Reseller Account: Expand your offerings with a free domain reseller account, allowing you to provide domain registration services.
Server Location Options: A2 Hosting allows you to choose your preferred server location from four distinct options, enhancing site performance for your target audience.
SSD Optimized Hardware: A2 Hosting's SSD-optimized hardware ensures rapid data retrieval and efficient performance.
Benefits of A2 Reseller Hosting in Canada

What do you get from A2 Reseller hosting in Canada?
a). Diverse Plans to Suit Your Needs
A2 Hosting offers four distinct plans, catering to varying levels of requirements.
Ranging from 60 GB to 120 GB of SSD storage, and 160 GB to 250 GB of transfer.
You have the flexibility to select a plan that aligns perfectly with your business ambitions.
b). Turbo Servers for Unparalleled Speed
Turbo Servers, boasting speeds up to 20 times faster than competitors, are a highlight of A2 Hosting's reseller packages.
Powered by LiteSpeed server technology, these servers deliver improved page load times, superior bandwidth management, and enhanced security.
c). Geographic Flexibility
Select your preferred data center location among USA-Michigan, USA-Arizona, Europe-Amsterdam, or Asia-Singapore.
This strategic choice allows you to cater to your audience's location, reducing latency and bolstering your website's loading speed.
d). Expert Support Around the Clock
A2 Hosting's Guru Crew Support team is available 24/7/365 through phone, chat, and email.
Their extensive knowledge and friendly demeanor ensure that your queries and concerns are promptly addressed.
e). 99.9% Uptime Commitment
A2 Hosting's commitment to 99.9% uptime guarantees your websites' availability, maintaining a positive user experience and reducing potential revenue loss due to downtime.
f). White-Labeling Capabilities
Tailor your reseller hosting account to match your brand identity using A2 Hosting's white-labeling features.
Customize control panel branding, nameservers, and billing software to create a cohesive customer experience.
As you can see, A2 reseller hosting in Canada provides the tools you need to establish and expand your web hosting business!
Features of A2 Reseller Hosting Plans in Canada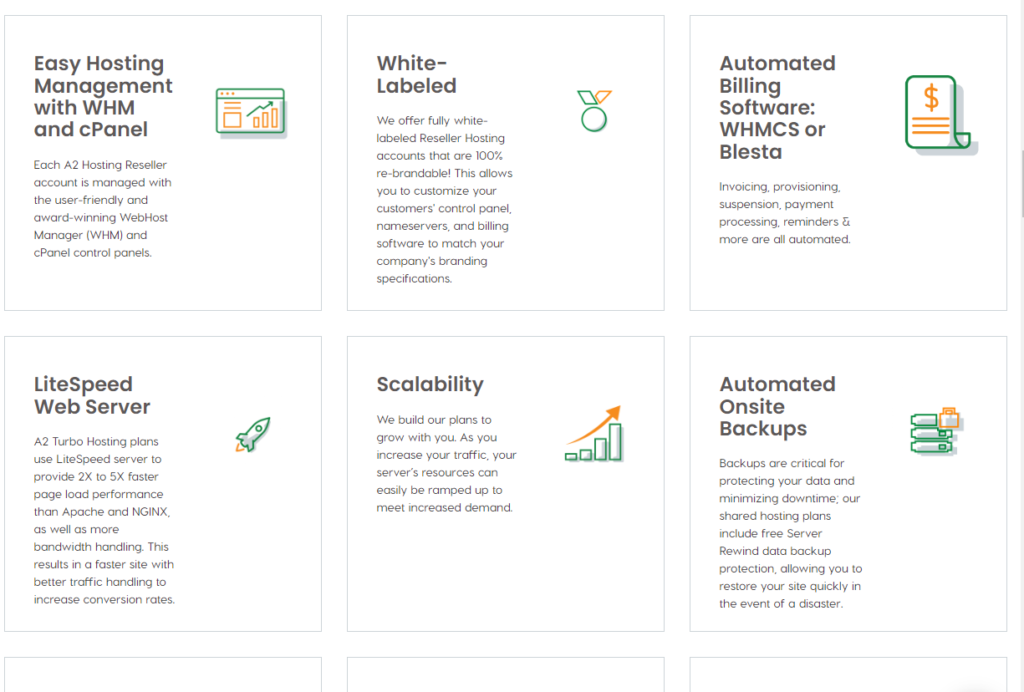 Cost: $17.99 per Month
A2 Hosting reseller hosting plans in Canada are characterized by a comprehensive suite of features designed to empower your hosting business.
Here's an overview of the key elements you'll find in these plans:
| Feature | KICKSTART | LAUNCH | GROW | SCALE |
| --- | --- | --- | --- | --- |
| Storage | 60 GB SSD | 120 GB SSD | 160 GB SSD | 250 GB SSD |
| Transfer | 600 GB | 1200 GB | 1600 GB | 3500 GB |
| Free SSL Certificates | ✓ | ✓ | ✓ | ✓ |
| cPanel/WHM | ✓ | ✓ | ✓ | ✓ |
| Free Billing Solution | ✓ | ✓ | ✓ | ✓ |
| Turbo Servers | ✓ | ✓ | ✓ | ✓ |
| Data Center Location | ✓ | ✓ | ✓ | ✓ |
| Guru Crew Support | ✓ | ✓ | ✓ | ✓ |
| Uptime Commitment | ✓ | ✓ | ✓ | ✓ |
| White-Labeling | ✓ | ✓ | ✓ | ✓ |
These features provide a snapshot of the capabilities offered by each A2 Hosting reseller hosting plan.
A2 Reseller Hosting Alternatives in Canada
While A2 Hosting offers an impressive range of features for reseller hosting in Canada, it's essential to explore alternatives to find the best fit for your specific requirements. Here are some noteworthy alternatives to consider:
#1. Truehost.ca Reseller Hosting
Truehost.ca is a Canadian web hosting company that offers reseller hosting plans with unlimited SSD storage, bandwidth, domains, and email accounts.
With prices starting from $24.99 CAD per month, Truehost.ca provides an enticing option for individuals seeking value and flexibility.
#2. Hostwinds Reseller Hosting
Hostwinds, a US-based web hosting provider, offers reseller hosting plans with unlimited SSD storage, bandwidth, domains, and email accounts. With plans starting from $5.24 USD per month, Hostwinds delivers competitive pricing coupled with exceptional features.
#3. Web Hosting Canada
A true patriot, Web Hosting Canada offers reseller plans with unlimited domains, email accounts, and a side of free SSL certificates. Starting at $15.95 CAD monthly, it's your local buddy.
#4. HostPapa
Looking for reseller hosting with unlimited domains, cPanel accounts, and a variety of features? HostPapa, a Canadian company, has got you covered! Their plans start at $29.99 CAD per month, making it a great deal for resellers.
Read also: 5 Best Reseller Hosting Companies for Canadians
The Difference Between Truehost.ca and A2 Reseller Hosting
Choosing between Truehost.ca and A2 reseller hosting depends on a variety of factors, including your budget, required features, and target audience.
Here's a breakdown of key differences to aid your decision-making process:
Price
Truehost.ca's plans start from $24.99 CAD per month, potentially offering more budget-friendly options in Canadian dollars compared to A2 Hosting's plans, which start from $17.99 USD per month.
Storage and Bandwidth
Truehost.ca offers up to 150 SSD storage and 1.5TB bandwidth, ensuring you have ample resources to accommodate growth.
A2 Hosting reseller hosting in Canada plans offer different storage and bandwidth levels, making it crucial to choose a plan that aligns with your anticipated usage.
Domains and Emails
Truehost.ca provides FREE domain reseller automation for all plans, enabling you to scale your hosting business without limitations.
A2 Hosting's plans offer a set number of accounts and domains, necessitating careful consideration of your hosting needs.
Control Panel and Billing
Both providers offer cPanel/WHM and billing solutions, ensuring efficient management and automation of your hosting operations. Ensure compatibility with your preferred billing software and control panel.
Server Location
Truehost.ca's Canadian servers cater to local audiences, potentially offering faster loading times for Canadian visitors.
A2 Hosting provides multiple data center location options, allowing you to optimize performance for specific regions.
Support
Both Truehost.ca and A2 Hosting offer 24/7 customer support through various channels. Consider the quality and responsiveness of their support teams when making your decision.
Ultimately, the choice between Truehost.ca and A2 reseller hosting hinges on your unique hosting requirements and priorities. Evaluating these factors will guide you toward the option that best aligns with your hosting business aspirations.
A2 Reseller Hosting in Canada: Wrap!
In conclusion, A2 reseller hosting in Canada emerges as a compelling solution for individuals and businesses seeking reliable, customizable, and feature-rich hosting services.
With a range of plans, exceptional performance, and dedicated support, A2 Hosting provides the tools you need to succeed in the competitive world of web hosting.
As you navigate the hosting landscape, exploring alternatives like Truehost.ca can help you make an informed decision that caters to your specific needs and goals.