If you're considering venturing into the world of web hosting, especially as a reseller in Canada, you've likely come across the name "HostGator."
This web hosting company has made a significant mark in the industry, offering a range of hosting services and features that cater to both newcomers and experienced professionals.
In this blog post, we'll dive into the details of HostGator.
We will look at its reseller hosting plans in Canada, the profitability of reselling, getting started with HostGator reseller hosting
And even compare it to other hosting providers and key factors to consider when choosing a hosting provider for a reseller plan.
HostGator: A Brief Overview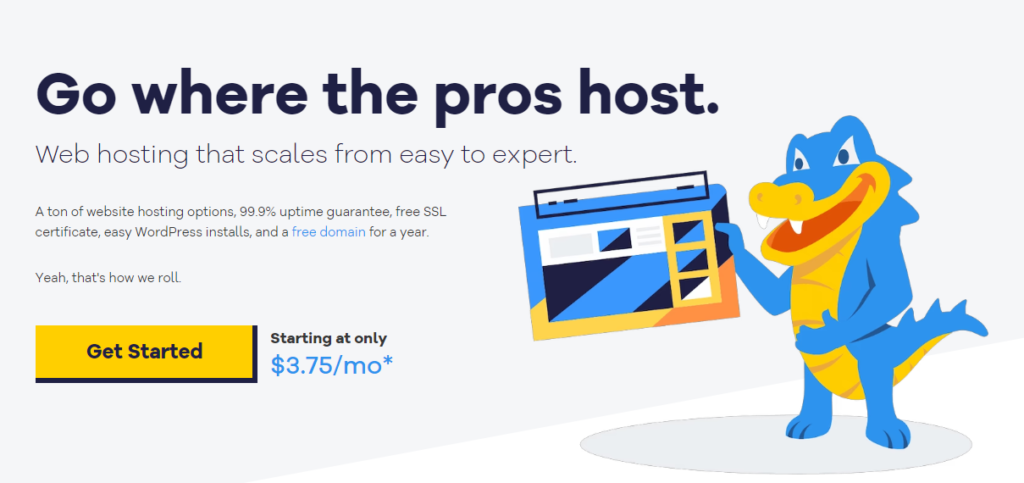 HostGator, established in 2002 by Brent Oxley while he was a student at Florida Atlantic University, has grown to become a prominent web hosting company based in Houston, Texas, with an additional presence in Austin, Texas.
The company provides a variety of hosting services, including shared hosting, reseller hosting, VPS hosting, and dedicated hosting.
Its commitment to providing reliable services is reflected in its impressive 99.9% uptime guarantee.
HostGator's feature-rich offerings include:
A free SSL certificate for enhanced security.
A complimentary domain for the first year.
Round-the-clock customer support to assist you whenever needed.
Notably, HostGator has garnered recognition from respected sources like PCMag and TechRadar, solidifying its reputation as a dependable and affordable option for businesses of all sizes.
HostGator's Versatility: What Can It Do?
HostGator's array of services extends to hosting websites, email accounts, forums, wikis, and applications.
The company employs various security measures such as firewalls, intrusion detection systems, and malware scanning to safeguard customer data.
With an emphasis on security, HostGator stands as a secure haven for hosting your online ventures.
The Pros and Cons of Opting for HostGator
As with any service, HostGator comes with its own set of pros and cons:
Pros:
Competitive pricing that suits various budgets.
Diverse features and services to cater to different needs.
Assurance of 99.9% uptime.
Inclusion of a free SSL certificate for enhanced security.
Simplified WordPress installation.
Opportunity to have a free domain for the first year.
Constant availability of customer support.
Cons:
Some features might not be accessible across all plans.
Occasional reports of slow customer support responses.
Isolated instances of downtime.
Taking these factors into account, HostGator emerges as a reliable and pocket-friendly web hosting provider that delivers a comprehensive range of features and services suitable for businesses of varying scales.
HostGator in Canada: Reseller Hosting Options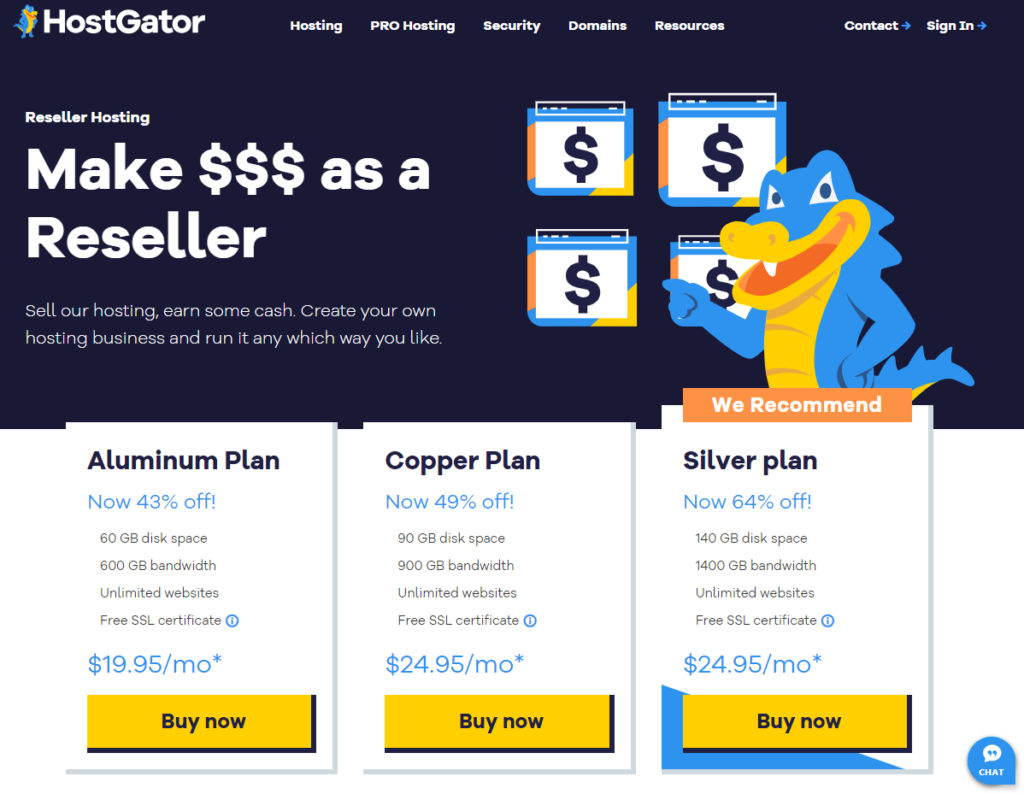 Yes, HostGator works seamlessly in Canada, making it an attractive option for those seeking secure and cost-effective web hosting.
HostGator's reseller hosting plans in Canada provide an avenue for you to establish your very own web hosting venture swiftly and affordably.
The reseller plans come in three tiers: Aluminum, Copper, and Silver.
The Aluminum plan offers 60 GB disk space, 600 GB bandwidth, unlimited websites, and a free SSL certificate, all at $19.95 per month.
The Copper plan steps up the game with 90 GB disk space, 900 GB bandwidth, unlimited websites, and a free SSL certificate, available for $24.95 per month.
The Silver plan, priced at $24.95 per month, encompasses 140 GB disk space, 1400 GB bandwidth, unlimited websites, and a free SSL certificate.
Managing your hosting business with HostGator's reseller hosting plans is a breeze, thanks to the robust tools at your disposal.
From the WHM and billing software to the cPanel control panel, you have the power to control resource allocation, payment methods, and other client services.
HostGator's simple and free upgrade options facilitate seamless scaling as your business flourishes.
The presence of WHMCS further streamlines customer billing processes, with automatic installation as a valuable bonus.
The plans additionally grant you access to unlimited websites, email accounts, MySQL databases, FTP accounts, and more.
Profitability of Reselling: What to Expect
Embarking on a reselling venture can lead to profitable outcomes, but success is influenced by several factors.
Resellers typically enjoy profit margins ranging from 20% to 50%, though certain products can yield significantly higher returns.
The profitability equation encompasses factors like product selection, pricing strategy, overhead costs, and marketing efforts.
Choosing high-margin products, setting competitive prices, minimizing overhead costs, and employing effective marketing strategies are key tactics for boosting your reselling profitability.
Building a loyal customer base and maintaining excellent customer service contribute to long-term success in this arena.
Patience and persistence are paramount, as building a profitable reselling business requires time and dedication.
How To Get Started With HostGator Reseller Hosting in Canada: Step by Step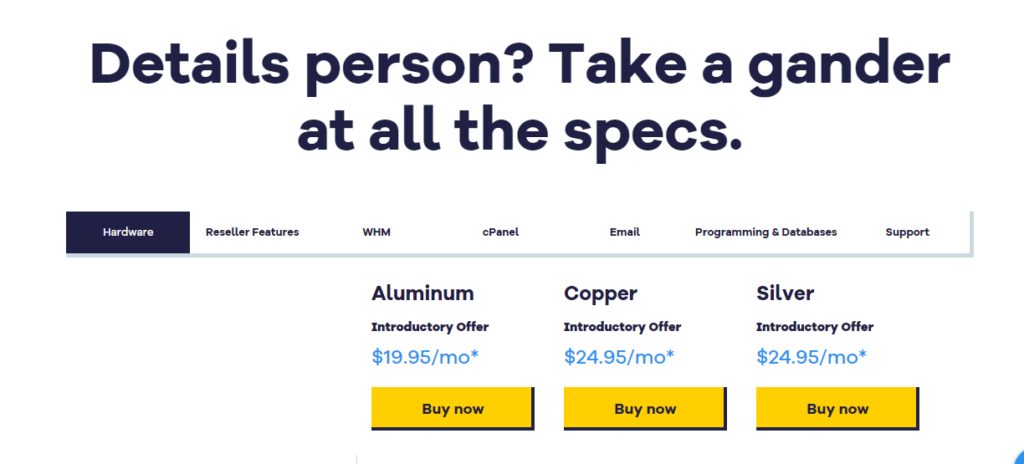 Getting started with HostGator's reseller hosting in Canada involves the following steps:
Choose Your Plan: Select a reseller hosting plan that aligns with your business needs and budget. HostGator offers a variety of plans, each with distinct features and resources.
Create Your Account: Establish a reseller account, furnishing basic information such as your name, email address, and payment details.
Package Setup: Customize your packages, specifying the amount of storage, bandwidth, and other resources allocated to your clients.
Client Account Creation: Begin creating accounts for your clients, ensuring you gather essential details like their name, email address, and domain name.
Support Provision: Fulfill your role as a reseller by providing comprehensive support to your clients. This involves assisting with website setup, troubleshooting, and renewal procedures.
HostGator Reseller Hosting vs. Other Providers in Canada
HostGator is a major player in the reseller hosting game, but it's not the only option available. Other notable providers in Canada include SiteGround, Bluehost, and A2 Hosting.
SiteGround: Known for its reliability, SiteGround offers a reseller plan that encompasses 40 GB disk space, unlimited bandwidth, enhanced security, staging, white-label options, and priority support for only $10.69 per month.
Truehost: A popular choice, Truehost's reseller plan includes 100 GB disk space, 1TB bandwidth, and a free domain name reseller automation, all for CAD $38.11 per month.
A2 Hosting: A2 Hosting enters the fray with a reseller plan featuring 30 GB disk space, 400 GB bandwidth, and a free SSL certificate, priced at $13.19 per month.
Each provider brings its own strengths to the table, so thorough comparison and alignment with your business goals are essential for making the right choice.
Crucial Considerations for Choosing a Reseller Hosting Provider
As you embark on your reselling journey, several factors demand your attention:
Uptime: Your clients' websites must be available to visitors, emphasizing the need for a hosting provider with a strong uptime record.
Storage and Bandwidth: The resources provided must align with your clients' demands, ensuring smooth website performance.
Features and Services: Consider the offerings that matter most to your clients, such as email hosting, domain registration, and customer support.
Pricing: Find a balance between affordability and quality, selecting a plan that suits both your budget and your clients' needs.
Reputation: Customer reviews provide insights into a provider's reliability and customer service, aiding your decision-making.
Support: Access to prompt, efficient customer support is vital to tackle any issues that may arise.
In Conclusion
HostGator's presence in the web hosting industry is well-established, and its reseller hosting options in Canada offer an enticing avenue for those seeking to start their own web hosting venture.
While HostGator is a significant player, other providers like SiteGround, Bluehost, and A2 Hosting present alternative choices that cater to diverse needs.
Your path to profitability as a reseller hinges on strategic choices, commitment, and a dedication to providing exceptional service.
Whether you choose HostGator or explore other providers, careful consideration of your needs and objectives will guide you toward a successful and rewarding reselling journey.